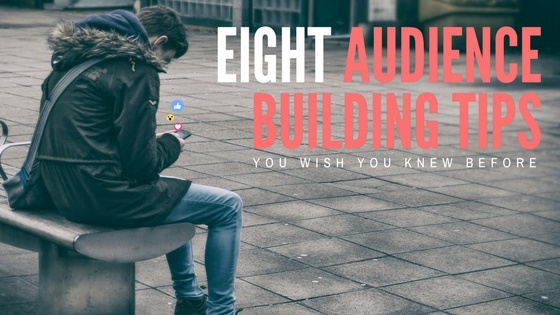 There are over 2 billion active users on social media every day. Platforms like Facebook are aggressively developing powerful advertising tools to help you serve content to your ideal customer.
Social advertising is my absolute favorite thing about working at Chatterkick. I've run over 1,000 advertising campaigns, each one a bit nerdier than the last. I'm always trying to figure out what new features I can use to get content in front of the right people. Here are eight audience building tips to foster relationships with potential customers or help you drive sales with existing ones!
1. Learn More About Your Audience
Knowing your audience is a crucial component to a successful digital strategy. Before you get started, do some digging to gain an in-depth understanding of your customers. Check through your database, create a form on your site, or try a focus group or customer interview.

Want a secret tip from a total ad nerd, use Facebook's Audience Insights tool! It's one of my favorite ways to learn how I can totally win the ad game. The Audience Insights tool aggregates information like demographics, Facebook usage, Purchases activity, Location, and language. Trust me, once you start using the tool, you'll find yourself creeping around for hours trying to figure out more about your audience.
2. Location, Location, Location
If you're a brick and mortar business, the safest and most cost-effective form of advertising you can start with is by targeting your community. Use each social platform to geo-target country, state/province, city, and even zip codes. Don't get too narrow or your cost per click will be more expensive. Click here to see how geo-targeting works on Twitter.
3. Target What They Love
One of the best ways to connect with people who are likely to be interested in your business is to use demographics and interests to target what they love. Targeting demographics is an easy topic, you can select age, gender, education, relationship status, job title and more. Next, think of other interests your target audience is interested in. Choose interests and hobbies of people you want your ad to reach, from food, music, and clothing, to magazines and hobbies. Think about it this way; people come to social media to connect with the passions and pursuits that they find meaningful. Want a pro-tip? I like to use the interests feature to target competitors for some market share. Why not deliver your content to a thriving community who could be equally passionate about your brand? Download this guide to interest targeting on Pinterest.
4. Tap Into Behavior Targeting
This one is what makes social advertising absolutely drool-worthy for me. Companies that have access to trillions of data transactions share their databases with social platforms like Facebook and Twitter to give you over 1,500 different data points to target per person. Seriously, when you dive into behavior targeting on Facebook, you're likely to have one of those holy sh*t moments. My bad, let me tone it down a bit and give you some examples. Behaviors include buyer profiles, brand purchases, household characteristics, purchasing behavior, residential profiles, charitable donations and more.
5. Eventful Lives With Life Events
People use social to share their stories with their friends and discover new things to connect to. A big part of sharing those stories are life events. Think about the opportunity of targeting people celebrating anniversaries, newlyweds, engagements, and relationships for a business in the wedding or jewelry industry. The real art in advertising on social is humanizing your brand and create a real relationship with your customers. Talking about events that are important to your fans let them know you're real and you care.
6. Get In Touch With People You Already Know
Custom Audiences allow you to tap into your existing customers and contact base. Someone who has already expressed intent on engaging with your business is the ideal person to target. You can use a list of your current customers or prospects, target people who visit your site or even build a list of individuals who have engaged with your content. Here's something else to think about, you can even exclude a custom audience from receiving your information. Insert evil laugh >>> Muahahaha
7. Find People Who Are Already Similar To Your Customers
You can find people similar to your customers with Facebook's Lookalike Audience. It's a really cool tool that automatically creates a list from a source you upload or connect to Facebook. It's one of the most efficient ways to target new customers. The BEST results I've seen is by using a list of your customers (try a list of 1,500) and build a Lookalike Audience with a 1% match. Give it a go!
8. Find A Killer Combo
There are A LOT of opportunities to target your audience by leveraging social media advertising. Honestly, there is no shortcut or secret to connecting with a high-intent audience. Your best bet is to start testing a combo of these tactics to find what will get you the greatest results. I think you'll be surprised by what's the most useful for your business.
---
There is no doubt that audience targeting is an effective way to reach the people who matter most to your business. One of my favorite places to learn more about targeting is Facebook's Blueprint Courses. You can take the concepts you learn there and apply them to all other social platforms.
If you need help getting started or are looking to make a greater impact in the digital landscape with social advertising, reach out to us. I am a self-proclaimed advertising nerd who would love to help develop a campaign that will resonate with your audience.
---