What Is The Generation Social Media Podcast?
The Generation Social Media podcast is not your typical social media podcast. Our podcast takes a unique look at the philosophies, tactics, and tools it takes to tell your brand story on social. There are a lot of misconceptions around social media. Which platforms you need, where your audience is spending time every day, and how they'll react to content. We're here to challenge the status quo and help you, our listener, look at these platforms creatively to get the best results.
On each episode, some of our Chatterkick team members will tackle topics requested from our clients, partners, friends, family and listeners. At the end of the episode we're highlighting a user's social media use and how you can use social media to reach them. If you're looking for new ways to engage your target audience, we've got your back. We'll be dropping new episodes every other week.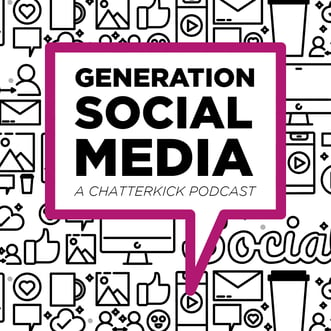 Who Is The Podcast For?
The Generation Social Media podcast is for anyone who wants to learn about social media. You may be looking to level up or just get started or maybe even get a fresh perspective. This podcast is for business owners, leaders, or anyone trying to get the most out of social.


Why Listen To The Generation Social Media Podcast?
We know there are a million marketing podcasts out there. So we really appreciate our listeners that are taking the time to tune and send us such awesome feedback so far. Our unique perspective is that we're so fortunate to work with different types of businesses at different points in their social media journey, in vastly different industries, across the country. The Generation Social Media Podcast is here to help you grow and hack your own knowledge to help your business navigate these platforms. I know first hand that the second you're confident in a specific platform strategy, the rules change, the algorithm advances, and the tools literally look different. We're sharing what we're learning on a day-to-day basis from our clients and platform partners with our listeners.


How Do I Get The Most Out Of The Content?
Everyone is going to get something different out of the podcast. We know that our listeners are at a different part in their discovery journey, whether it's technically or their approach and belief in the strategy. Our goal is to share as much information as we can to provide value to our listeners. Maybe you'll catch a quote that really speaks to you that makes you think differently about your business. You could hear a tactic that you end up testing out and seeing a huge return, or maybe you'll find a tool that completely changes your implementation game.


I'm In. How Can I Get Involved In The Podcast?
Involvement in the podcast can be super simple; this is the part that I'm most excited for. You can submit a question here, and I'll make sure it gets answered on an episode. We already have some fascinating topics coming up. If you have a unique social media approach or wins and you want to join in the discussion, we'd love to have you as a guest, send me an email. There are other ways to engage that mean so much to us: letting me know which moments you liked best, sharing the podcast with your friends, or leaving an awesome review on your favorite app. It is totally up to you, but at the end of the day, we appreciate your support.

How To Listen:
The Website
Apple Podcast
Spotify
Google Podcast
Breaker
Castbox
Stitcher
Overcast
RadioPublic
Anchor
How To Watch:
Read The Takeways From Each Episode: