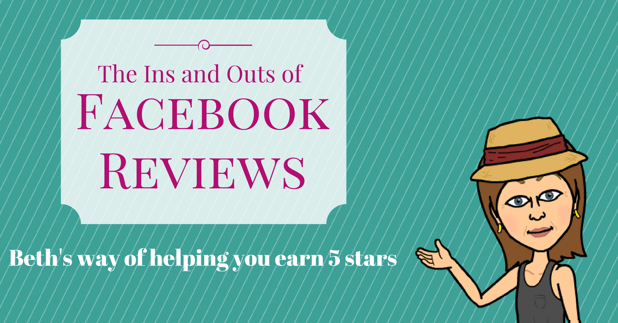 Everyone wants to know when they're doing a good job: a pat on the back, a gold star, any affirmation of success. For a business, this need for reassurance is no different. Feedback is essential for growth and development in the business-world be it positive or negative. Facebook makes feedback easy with their 5-star review system.
According to ReviewTrackers, Facebook reviews are growing four times faster than reviews on other sites. This system of ranking businesses by stars is effective and simple for consumers to use. Facebook uses an algorithm which allows the reviews to appear on newsfeeds for other consumers to see, introducing them to new businesses. They are a strong tool for testimonial marketing, they allow users to "Facebook" your brand, and the reviews consist only of stars and copy text should the reviewer decide to leave a comment.
Facebook reviews also play a major role in the path to purchase by consumers. Fifty-four percent of consumers consider Facebook—along with retail websites—as the most common place to learn about new brands and products. Facebook is also the social channel that 62 percent of users go to in order to find out about a local business. Additionally, 80 percent of Facebook users say they are more likely to purchase if they see positive reviews on the company's Facebook Page. For 41 percent, the most important factor for engaging with a local business Page is the presence of ratings and reviews. And approximately 66 percent of consumers who want to share their customer experiences, thoughts, and opinions are most likely to share on Facebook. It's hard to argue with these numbers; Facebook reviews are beneficial!
Also, last year Facebook launched a local search feature called "Professional Services," which gives users the ability to find the highest-rated business in a given geographical area. A customer's search results are determined by reviews and rating scores of a business. Like Yelp and Google, Facebook Professional Services lists the top local businesses across an extensive number of categories. You want your business to make that list, so why not employ Facebook reviews?.
Of course there are several questions that businesses ask almost immediately after the topic of reviews is introduced. Can you remove a vulgar/annoying review? How do I get more reviews? Can I shut off my reviews? Do I have to respond? The thought of allowing clients to post as they please can be intimidating. But with the risk comes reward. A business that can boast good reviews is one that appears trustworthy and legitimate in the eyes of consumers. Reviews help establish credibility. Remember: A thousand Page likes or clickbait posts won't necessarily build trust and interest among potential customers, but authentic 5-star ratings and glowing reviews from your happy customers can.
Facebook Reviews is an invaluable tool that can be used to help your business establish itself in the social networking world. Think your business is worth five stars? Let's check the reviews.