CHATTERKICK SNAGS 5 STARS ON CLUTCH
Chatterkick's mission is to be a new kind of brand partner. We want to help brands tell their story and make human connections in the digital world.
This mission is woven throughout everything we do, from our interactions on behalf of our customers to our client and team connections. We create with clarity, inform with intention and innovate with purpose; to connect people to what they care about most.
With over nine years of experience, we know what it takes to launch and cultivate brands. We've been working with mid-market companies in the US and beyond to build community, help clients gain a competitive advantage, and strengthen loyalty.
Two of our clients recently shared their experience in working with the Chatterkick team. Their detailed reviews on Clutch highlighted our knack for creativity, connection, and digital marketing expertise. Clutch is a B2B listing resource and reviews platform based in Washington, DC. They evaluate companies based on their quality of work, industry experience, and client reviews. Clutch has become the go-to resource in the B2B space for connecting small, mid-market, and enterprise businesses with the perfect service provider. Their analysts perform in-depth interviews with clients about the quality of their interaction with a Clutch-registered company. (psst, that's us!)
The first review came from a construction and engineering company. Previously, they didn't have a dedicated marketing team, so they hired us to make them stand out in the engineering, procurement, and construction industry. We have developed their website, created their marketing assets, and managed their social media campaigns.
"We are definitely getting more noticed by people," said Ryan Callaghan, president, and CEO of RP Constructors. "They help get the message out with respect to our capabilities. They are successfully giving us brand exposure and awareness."
Ryan was also impressed with our methodical workflow, responsive approach, and ability to adapt based on his feedback.
Sneak a peek at Ryan's feedback below or click here to read his full review.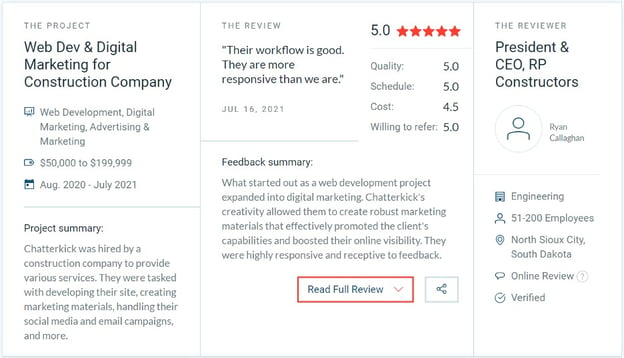 The second review came from an ALS nonprofit. We helped bring awareness and drive donations to a GoFundMe page for Jaci Hermstad, a young Iowa woman with an aggressive form of ALS. This was an excellent example of our mission in action. Using digital resources to make human connections, Chatterkick built an active and engaged 'village' that rallied to support Jaci and her family.
In just a week, we were able to assist in raising $38,000 worth of donations and shared Jaci's story with over 775,000 unique users.
Melissa Lazourakis, marketing manager at Cowgirl Up for Jaci, said, "Chatterkick was a social media marketing expert. I always went back to them for advice, and they get the results that I want. On top of that, they were knowledgeable on where we should spend our money to reach the audience we want to reach." Melissa gave us perfect five-star ratings across the board! Click here to read her full review.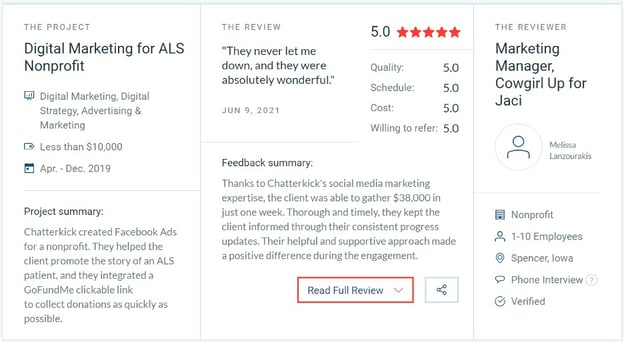 Clutch's sister website, the Manifest took note of our work and named Chatterkick a Top Snapchat Marketing Agency! The Manifest is a B2B platform and resource that compiles and analyzes practical business wisdom for innovators, entrepreneurs, and business managers. They aim to allow users to find experts on the Manifest by producing lists of the absolute best agencies. That said, we're proud to be recognized as an industry leader!
Thank you to RP Constructors and Cowgirl Up for Jaci for their reviews. We love getting client feedback almost as much as we love making connections.
If you want to up your digital marketing game, give us a ring, and let's chat about how our team of experts can help you reach your goals.