We get asked daily what the newest trend in Social Media is today? All of us here at Chatterkick will answer the same thing today - - Pinterest!
It's the concept of having a cookbook or even a scrapbook, where you put all of your favorite recipes or images into. Each book would be unique for each part of your life. Another nice part of Pinterest is that each image that is "pinned" keeps the originial location, meaning the blog or site where the information is stored. For example, I have a category, aka a board, that is all about exercise. So, if I see a post about a new type of workout that will make me loose 5 lbs in a week, I can save the image, aka pin it, to my exercise board. Then, when I'm motivated to workout, I open my Pinterest page and open the excersize board and look for my workout options.
Some other examples of board titles would include: Sports, Architecture, Kids Crafts, Fashion, Hair & Beauty, Design, Food, Humor, Home Decor, Vacation, Gardening, Technology, Books, Outdoors, Drinks, Holidays, wedding, DIY projects, etc.
So, why be on Pinterest? And what will pinning get me? According to Shareholic's Referral Traffic Report, Pinterest drives more referral traffic than Google Plus, LinkedIn and YouTube combined! And according to Inside Network's AppData tracking service, Pinterest now has over 10.4 million registered users! It's time for you to come up with a social media plan that includes Pinterest. Your business page may not drive people right back to your website, but it may tweak someone's interest in the type of product or service you are selling. If you need some help coming up with your social media plan, call us to help kick start the ideas of how to use social media to increase chatter about your business.
Being on Pinterest for some time now, I find it easy and relaxing to pin ideas during my free time. But, finding the time to actually accomplish some of my wonderful ideas is not as easy to come by. But, this weekend I really put my Pinterest pins to the test and I've very proud of my accomplishments....
Here is what I created for our church bake sale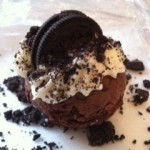 Here is what my daughter and I created for her Valentine's Day cards

- Virginia Anderson