Short Answer. No, at least not yet. We had heard the transition to Facebook Timeline for Business Pages was scheduled to be released yesterday, but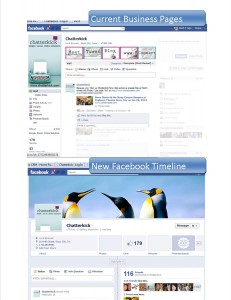 when I saw the notification on the top of our Chatterkick Facebook page for some reason, I was still surprised. Maybe it was the fact that I tend to be skeptical on Facebook's "deadlines" because they have switched release/expire dates more than I care to keep track.
Don't get me wrong. I'm a complete new product junkie. Put a "new" sticker on any bottle or package in the grocery store an I'm all over it. I even picked up some "new" kinds of apples the other day. A new apple? Really? Nonetheless, maybe this helps to understand why I almost immediately clicked the button to transition our Chatterkick page over to the new timeline right away. After all, I have it on my personal page and although it gets some getting used to, is not all that bad.
Thank goodness I did a thorough check of how everything on our page would be affected because the transition to business page timeline is going to change the marketing ballgame for how business interact on Facebook. My prediction is that there will be a ton of opportunities for business and the creative and unique will thrive, while the ordinary will get lost amongst the clutter. Here are the top 5 changes you should be aware of with the new timeline.
1. Facebook Page Apps (the ones along the side of your FB page) may be altered with the new timeline. We are waiting on this to see what third party apps such as PageModo, Wildfire, etc do to make adjustments to their platform.
2. Choose Featured Posts- You can now choose what posts are at the top of your Timeline (Facebook Page) by pinning them to your timeline.
3. Large Profile Banner- Personally my favorite part. A great place for brands to showcase themselves visually.
4. Default Landing Tab- Gone! Well the page is actually not gone, but the ability to set that as the fan gate is no longer possible. Many pages, Chatterkicks included relied on these fan gates to help gain fans. I anticipate there will be other options for brands in the future, but for now this is the main reason I'm waiting to switch over ours, and our clients.
5. Larger Page Icons- Where you were previously limited to a small icon on the side of the page, the new layout allows you to change and edit these icons. The downside to this is that the dimensions are set in pixel size so I'm hoping that Facebook will adjust image sizes automatically. Otherwise, only those with photo editing programs will be able to easy swap those in and out.
Whether or not you like the new Facebook Timeline for Business Pages that reality is that according to Facebook, all pages will be transitioned over on March 30th. My advice to you: wait a couple of weeks to let Facebook (and the third party apps) get the bugs out. As always, if you have any questions, Chatterkick is here to help so drop us a line or an email at beth@chatterkick.com
Beth Trejo
CEO
Chatterkick