In the previous post, I had mentioned the risks and viral garbage that are out on the web, social media included. The best thing you can do is to limit your use of third-part apps and games on Facebook and other social sites, however what if you do notice extra spam and feel like your account is now compromised. What should you do?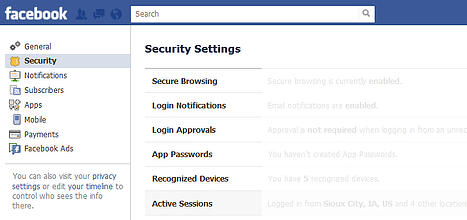 Delete, Delete, Delete- The first thing is to remove all spam posts from your feeds, that means make sure you can't see those posts any longer. This also reduces the risk of spreading one of these to your friends or connections.
Security Settings- If it was Facebook specifically that you've noticed the problem there are two areas within the Account Settings/Security tab that are especially important. Within that area, click on the active session tab and end every session or location which you are "logged in". This will help to make sure someone is not accessing your account from another computer.
Apps Check- Under that same Account Settings panel is another area called Apps. Click on that tab and then edit or delete any apps that are currently accessing your information or data that you do not recognize. This is also a good practice to do on a regular basis since many of the spam problems people have with Facebook have to deal with third party apps access their personal information.